Metro Bank 3d Plasterboard ceilings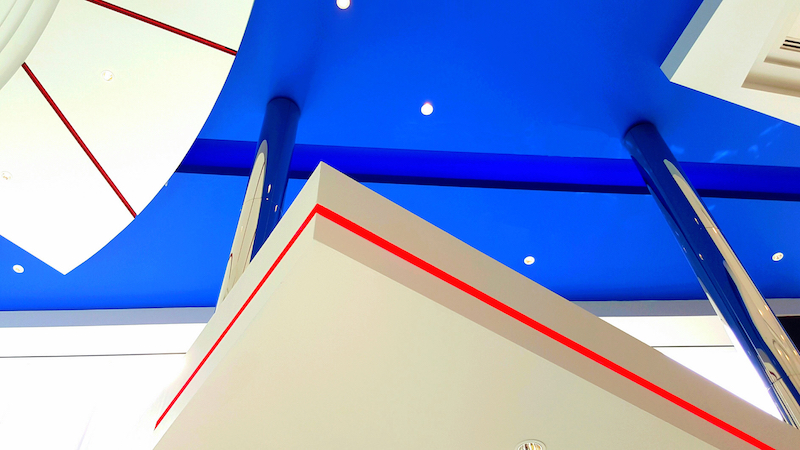 Metro Bank Location: Oxford, Bath, Canterbury, Piccadilly, Putney and many more.
Contractor: Sucina Ltd.
Materials: Plasterboard bulkheads
Installation of pre manufactured plasterboard bulkheads at Metro Bank
The use of pre manufactured plasterboard bulkheads are increasing in popularity. Metro banks have a unique and beautiful design with lots of complex ceiling details which makes the use of off site manufacturing ideal. Sucina Ltd a specialist ceilings and partition contractor recognises this and used our pre manufactured V-Cut plasterboard bulkheads to simplify the ceiling installation on site. 
Advantages of using pre manufactured plasterboard bulkheads
The main advantage is the speed of the installation on site. Plasterboard profile
 bulkheads can simply be put in to place without the need of having to build them on site. This saves a lot of time and cost in labour however the accuracy and high quality of perfectly manufactured plasterboard profiles pushes many contractors towards offsite manufacturing. 
Metro Bank interior fit out
In the case of Metro Bank interior fit out, the contractor used our ready made 3D profiles to set out the unique ceiling design on the floor first before hanging them. The final result is mesmerising. A complex but clean design with lots of different dimensions.  
For all Metro banks, V-Cut has provided a service where we extract the celling layouts from the architect's drawings. We then divide the entire ceiling into manageable parts for installation on site. We are also engineering the support structure and create CAD assembly drawings for the installation team.  All ceiling parts are created from CAD drawings and using CNC machinery at our factory.
We at V-Cut are delighted to be a supplier for these complex bank fit outs. We are please to say that we have worked with the architects and contractors to complete the interior fit out of more than 20 Metro banks.  
Some of the Metro banks we have provided profiles to include: Oxford, Bath, Canterbury, Bristol, Hayes, Harrow, Manchester, Cambridge, Piccadilly, Putney and many more.