Menia Science Park – Perforated Acoustic Plasterboard Ceilings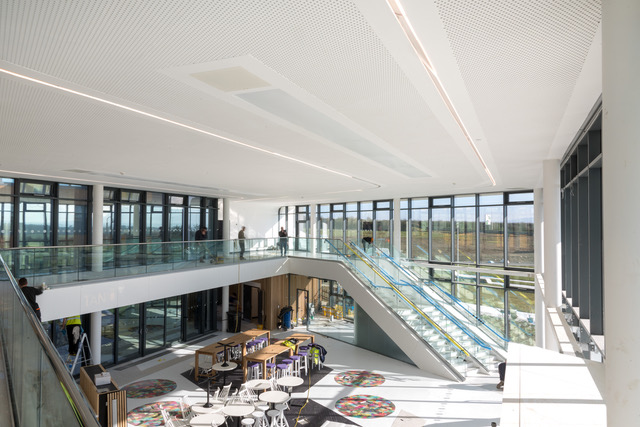 Project: Menai Science Park 
Contractor: CDL Partitions 
Materials: Perforated acoustic ceiling and plasterboard light coves 
Welcome to the new Menia Science Park, a thriving hub of innovation and collaboration. Discover how V-Cut Ltd.'s top-quality perforated acoustic plasterboard ceilings, expertly installed by CDL Partitions, can enhance the atmosphere and functionality of this remarkable scientific centre.
Enhanced Acoustic Performance for Uninterrupted Innovation: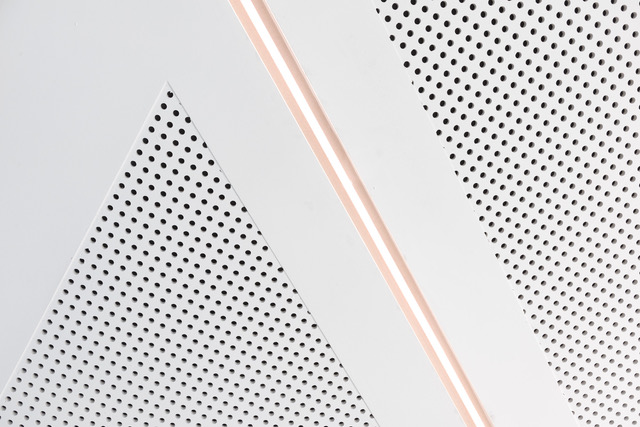 Experience the power of clear communication and focused work environments at Menia Science Park, with the assistance of a perforated acoustic plasterboard ceilings. These cutting-edge ceilings, absorb excess noise, reducing echo and reverberation. This optimised acoustic environment creates the perfect setting for concentrated work, discussions, and collaborative breakthroughs.
Customizable Designs Tailored to Inspire:
Perforated acoustic plasterboard ceilings, offer limitless design possibilities. Architects and designers can create unique and visually stunning ceilings that seamlessly integrate as demonstrated at this project. A modern and dynamic atmosphere these customisable ceilings inspire creativity and foster a clean and modern environment.
Practicality and Functionality Optimised:
Plasterboard ceilings offer practical benefits. These ceilings seamlessly accommodate integrated lighting fixtures, air conditioning systems, and other ceiling-mounted devices without compromising acoustic performance.
Menia Science Park created a very stylish space with outstanding acoustic benefits. Elevate aesthetics, optimise acoustics for a clean and modern design finish.