we turn your ideas into reality
Pre shaped plasterboard 3D elements from light coves to highly complicated ceiling shapes.
Advantages of 3D elements
Better quality – factory made and inspected elements cut with CNC accurate equipment will be superior to site built solutions.
Faster installation – a pre-assembled profile or one that involves less cutting and finishing on site improves site productivity.
Better design – intricate solutions are best CAD designed and fabricated off site using extremely accurate machining.
Individual solutions realised quickly.
Drywall or plasterboard is an incredibly flexible product as it can be cut, formed and jointed on site. However, it doesn't have to involve a lot of site work when it's possible to produce 3D elements including curved elements off site.
Buy 3D profiles direct from v-cut – Click here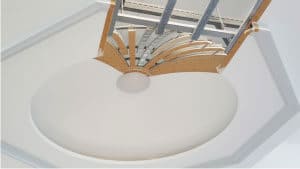 Baffles, grilles, multiple stepped elements, factory made ceiling canopies, ceiling or wall insulating boxes, picture and TV wall recesses, top hat ceiling recesses, blind boxes, light coves …the possibilities are endless. Factory formed for perfect quality and faster site installation.
Floating Canopy Ceilings
Floating canopy ceilings provide the designer with not only interesting aesthetic options but also achieve functional aspects like sound absorption.
V-Cut canopy ceilings are made to order within a short lead-time depending on your specifications. The canopies can be supplied pre-assembled, depending on size, or with easy to handle elements for construction on site allowing particularly quick installation compared to other methods.
Socket Boxes
Dry lined walls have to accommodate services such as electrics, telephone, TV, digital data, Internet or radio cabling and it is common to cluster these at a specific point or a small number of points within a room.
With the patented V-Cut socket box, it is possible to reduce the return visits for finishes whilst providing easy access for the electrical trades using an insulated box made from sympathetic materials to the rest of the wall (including standard, sound, fire or moisture boards) rather than messy putty pads that are difficult to install.
V-Cut's socket boxes save time and money.
Television & other recesses
Flat screen technology means ever-thinner screens creating greater opportunities for wall mounting. For both aesthetic and safety reasons many clients wish to not only mount but to recess the screen into the wall.
Dry wall or plasterboard constructions make that possibility easier and using V-Cut profiles the process is faster resulting in a clean, straight and crisp surround to the screen or art niches both of which can be combined with our concealed light features to bring even more depth to the complete feature and art.