Acoustic Ceiling and Perforated Plasterboard
Perforated acoustic plasterboard can significantly reduce noise and enhance the quality of the indoor environment of a building.
It helps:
Reduce noise
Control sound vibration
Improve indoor comfort
Produce higher quality acoustics.
Perforated plasterboard
Perforated plasterboard ceilings absorb sound and create a more comfortable feeling even in noisy rooms.
Standard flat, hard wall and ceiling surfaces can cause sound to bounce and to create noise and discomfort. V-Cut acoustic perforated pasteboard will significantly improve the acoustic comfort and reduce reverberation.
Perforation shape, size and percentage of open area can be tailored to match your design requirements.
Our standard range of perforated boards includes a variety of square, round or rectangular patterns.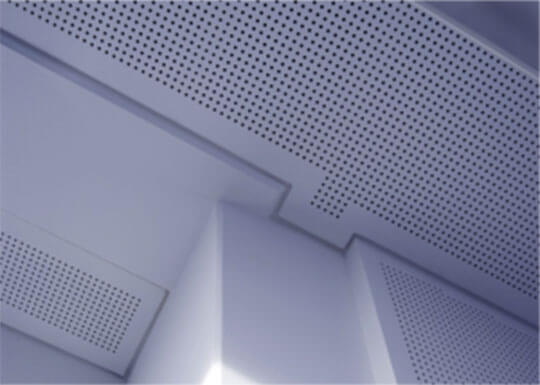 ACOUSTIC PLASTER –  An unbeatable marriage of aesthetics and sound performance.
For a seamless appearance, it is also possible to cover the perforated boards with acoustically treated plasters to further enhance the absorption performance.
Applied either to ceilings or walls, or indeed to both.
Additional benefits of plaster finishes:
No requirement for board jointing thereby increasing the perforated area and with it the acoustic performance
Installation is quicker and more economical due to a precise edge to edge installation technique
The sound absorption coefficient is up to αw = 0.95 (absorption class A)
The system comes complete including screws
Perforated boards come with up to 35.3% free area
The system is fully tested